The Toronto Blue Jays are a Major League Baseball team based in Toronto. They are the only MLB team outside of the United States. They are in the Eastern Division of the American League and their stadium is the Rogers Centre (f.k.a. Skydome).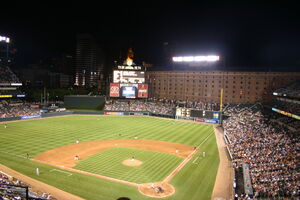 The rivals of the Blue Jays are:
Boston Red Sox
New York Yankees
Baltimore Orioles
Tampa Bay Devil Rays
Atlanta Braves
Los Angeles Angels of Anaheim
Noteable Players
Edit
Here are some noteable players and their position:
Roy Halliday (pitcher)
A.J. Burnett (pitcher)
B.J. Ryan (pitcher)
Vernon Wells (outfielder)
Gregg Zaun (catcher)
Adam Lind (outfielder)
Alex Rios (outfielder)
Lyle Overbay (first base)
Troy Glaus (third base)
Frank Thomas (designated hitter)
The only times the Blue Jays won the world series was in 1992 and 1993. In the 2006 season, the Jays finished in second place in American League east.
This is the complete blue Jays roster (*means injured):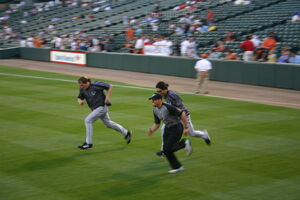 49 Jeremy Accardo
44 Josh Banks
34 A.J. Burnett
39 Gustavo Chacín*
37 Scott Downs
54 Jason Frasor
32 Roy Halladay*
19 Ryan Houston
44 Casey Janssen
22 Brandon League
30 Jean Machi
28 Shaun Marcum
40 Dustin McGowan
18 Tomo Ohka
26 Ismael Ramirez
50 Davis Romero
33 Matt Roney
36 Francisco Rosario
52 B.J. Ryan*
56 Brian Tallet
48 Ty Taubenheim
46 John Thomson
41 Tracy Thorpe
29 Robinzon Diaz
47 Jason Phillips
9 Gregg Zaun*
Infielders
Edit
11 Royce Clayton
25 Troy Glaus
23 John Hattig
2 Aaron Hill
6 John McDonald
17 Lyle Overbay
20 Sergio Santos
68 Jason Smith
Outfielders
Edit
3 Reed Johnson*
26 Adam Lind
15 Alex Rios
10 Vernon Wells
Designated hitter
Edit
Non-Roster Invitees
Edit
51 Geremi Gonzalez
64 Beau Kemp
66 Blaine Neal
7 Josh Towers
-- Pete Walker
60 Brian Wolfe
31 Victor Zambrano*
13 Sal Fasano
63 Erik Kratz
59 Curtis Thigpen
Infielders
Edit
43 Kevin Barker
16 Rob Cosby
1 Ray Olmedo
4 Ryan Roberts
Outfielders
Edit
57 Jeff Duncan
67 John-Ford Griffin
21 Chad Mottola
62 Mike Vento
Designated hitter
Edit
Here are the Blue Jays coaches:
5 John Gibbons (Manager)
12 Ernie Whitt (Bench Coach)
45 Marty Pevey (First Base Coach)
55 Brian Butterfield (Third Base Coach)
38 Brad Arnsberg (Pitching Coach)
53 Bruce Walton (Bullpen Coach)
14 Mickey Brantley (Hitting Coach)
Ad blocker interference detected!
Wikia is a free-to-use site that makes money from advertising. We have a modified experience for viewers using ad blockers

Wikia is not accessible if you've made further modifications. Remove the custom ad blocker rule(s) and the page will load as expected.