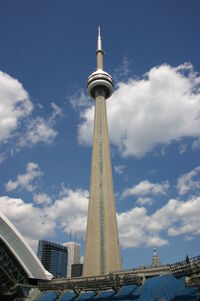 The CN Tower is the tallest free-standing tower in the world until 2007 and is located in Toronto. It has been a landmark in Toronto for over thiry years. It's uses are being a tower for radio and television signals as well as a lookout point for tourists. It has been the pride of Toronto since it was built in 1976. It stands at a height of 553.33 metres. The official name of the CN Tower is Canadian National Tower. The two main tourist places are the Skypod and the Space deck. The CN Tower is located right beside the Rogers Centre.
Ad blocker interference detected!
Wikia is a free-to-use site that makes money from advertising. We have a modified experience for viewers using ad blockers

Wikia is not accessible if you've made further modifications. Remove the custom ad blocker rule(s) and the page will load as expected.