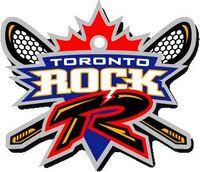 The Toronto Rock are a National Lacrosse League team that plays in Toronto. They use the Air Canada Centre. The head coach is Glenn Clark. Here is the Rock roster:
21 FW Benesch, Ryan
37 DF Campbell, Scott
23 DF Carroll, Matt
93 DF Driscoll, Chris
17 DF Fines, Kevin
20 FW Kruger, Rusty
6 DF Ladouceur, Dan
41 DF MacArthur, Brad
22 FW MacLeod, Mike
16 FW Manning, Blaine
14 DF Marshall, Rob
9 FW Merrill, Patrick
77 FW O'Brien, Tim
30 GK Poulin, Mike
40 DF Rubel, Ian
18 DF Sanderson, Phil
19 FW Sanderson, Josh
24 FW Shearer, Matt
27 DF Suddons, Derek
12 DF Thompson, Chad
32 DF Veltman, Jim
29 GK Watson, Bob
10 FW Wilson, Aaron
The roster is all Canadian.
Ad blocker interference detected!
Wikia is a free-to-use site that makes money from advertising. We have a modified experience for viewers using ad blockers

Wikia is not accessible if you've made further modifications. Remove the custom ad blocker rule(s) and the page will load as expected.