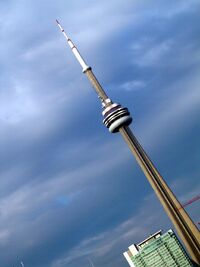 Welcome to the Toronto Wikia
We have over 706 pages.
Toronto, Trawna, T-Dot, Hogtown, the Big Smoke, T. O., Toronto the Good...whatever you want to call it, this is a place for residents and visitors of the city of Toronto, Ontario to share their experience.
Articles
Look for articles under these pages:
The PATH
The PATH is downtown Toronto's underground walkway linking 27 kilometers of shopping, services and entertainment. Follow the PATH and you'll reach your downtown destination easily in weatherproof comfort. The PATH provides an important contribution to the economic viability of the city's downtown core. The system facilitates pedestrian linkages to public transit, accommodating more than 100,000 daily commuters, and thousands of additional tourists and residents on route to sports and cultural events. Its underground location provides pedestrians with a safe haven from the winter cold and snow, and the summer heat.
Or, you can browse the categories.
New Articles
This wiki needs expanding so if you want to create a article go ahead and type down the name of the article you wish to create:
Other Information on Toronto
Adminstrative Pages
If you are really bored, here are some pages you may want to see:
Ad blocker interference detected!
Wikia is a free-to-use site that makes money from advertising. We have a modified experience for viewers using ad blockers

Wikia is not accessible if you've made further modifications. Remove the custom ad blocker rule(s) and the page will load as expected.